This year our Chef in Residence is Michelin-trained, Chef Jason Howard.
Chef-in-Residence with Caribbean Chef Jason Howard
Delicious wholesome food paired with excellent customer service are key parts of our philosophy at Charela Inn. So much so that we often invite renowned chefs into our kitchen to enhance our food offerings and train our staff on best practices in the hospitality and catering services. This year our Chef in Residence is Michelin-trained, Caribbean food connoisseur, and foodie, Chef Jason Howard.
Chef Jason Howard is a maestro in the kitchen, trained in classic and modern French cuisine, Michelin-experienced, and specialises in modern Caribbean cuisine. Chef Howard's innovative outlook led him to pioneer his own culinary approach to Caribbean food. He has left mouths watering for his sweet and savoury dishes all over the world (more on that later).
Who is Chef Jason Howard?
Chef Howard was born and raised in Barbados and is now based in London. While you may know him from the beloved UK show 'Masterchef: The Professionals (2015)', Chef Howard confessed that young Jason didn't actually want to become a chef. He wanted to be an astronaut!
A series of serendipity and delectable events in Barbados led him to cooking. Gifted in art and using his hands, Jason worked in several industries before landing a job in a hotel as part of the kitchen staff. Soon after, Jason became intrigued by the food chefs around him.
One day, after watching it countless times, he quietly prepared a popular mango shrimp salad. His salad was fortuitously selected to be served to patrons, and they loved it! A hidden talent was discovered. Since then Chef Howard has cooked his way around the world and introduced locals to delicious Caribbean flavours.
Modern Caribbean Cuisine
Chef Jason Howard is trained in classic and modern French cuisine. He worked as a sous-chef for 2 Michelin star chef Hélène Darroze, and has over 14 years of experience working in 4 and 5-star hotels globally. But what we appreciate most is Chef Howard's innovative take on Caribbean food.
Modern Caribbean cuisine, he says, is the use of modern equipment to make quintessential Caribbean food. Redefining the different ways we can cook or process tropical fruits, traditional meals and sauces. He creates fresh, high quality deconstructed meals using spices and ingredients from different Caribbean islands.
Chef-in-Residence at Le Vendome Restaurant
A perfect blend of food interests, aesthetics, and commitment to using Caribbean food was what drew us to Chef Jason Howard. We wanted to create an environment where our local chefs and staff could partner and learn from food maestros, to elevate our techniques, food presentation, and menu options.
But what is a "Chef-in-Residence"? Think of it as a prolonged guest chef at a restaurant who creates new menus and seeks new ways to use local ingredients. Charela Inn and Le Vendome provided the space, equipment, support staff, and ingredients. While Chef Howard brought his unique culinary perspectives, mentorship, and food techniques.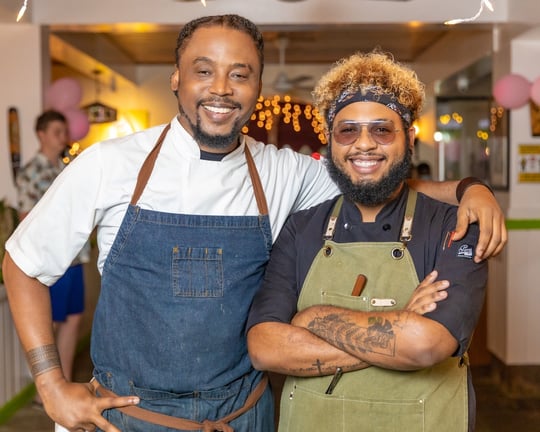 Chef Training and Mentorship
Chef Howard also provided training and mentorship to the kitchen and front-desk staff at Charela Inn. Servers were trained on plating and table-waiting techniques; front-desk employees learned how to better include customer service and knowledge of the restaurant to greet guests; and the kitchen staff were upskilled on food styling, menu makeover, and Caribbean cuisine best practices. However, Chef Howard was quick to point out that he learned a lot too. He was able to get a better sense of food culture in Jamaica and was introduced to many new foods, herbs, and spices.
---
Farm-to-Table
Cocoa Farm, owned by the Grizzles, is the 'secret sauce' to Charela Inn's fresh approach to food. The 172-acre farm supplies fruits, ground provisions, and fresh cuts of meat daily. After touring the farm, Chef Howard was inspired by the bountiful produce and natural freshwater spring on the farm. The constant stream of organic foods provided the perfect backdrop to create new enticing menus.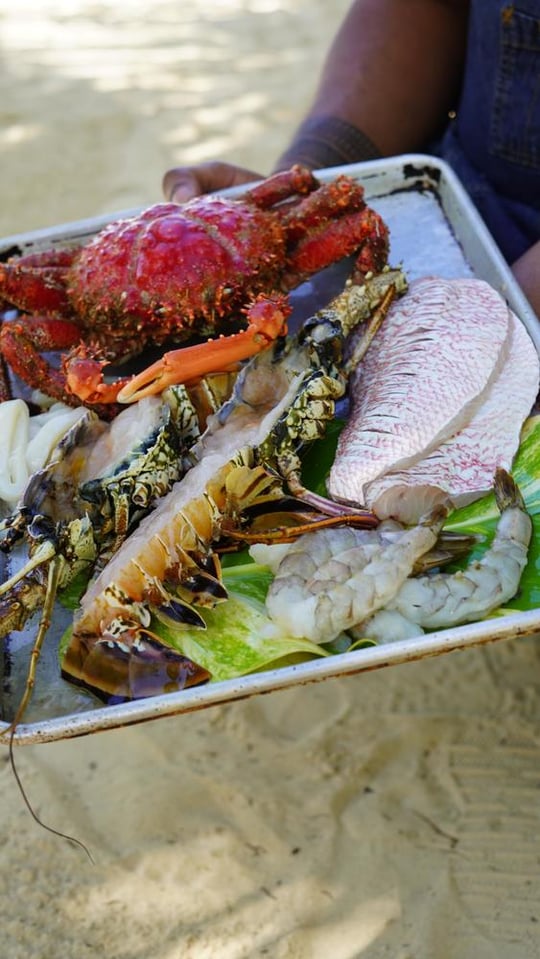 ---
Food Flavours, New Dishes, and Menus
While several new dishes were created, what stood out to Chef Howard were the variety of herbs and spices that he could "play around with" at the restaurant.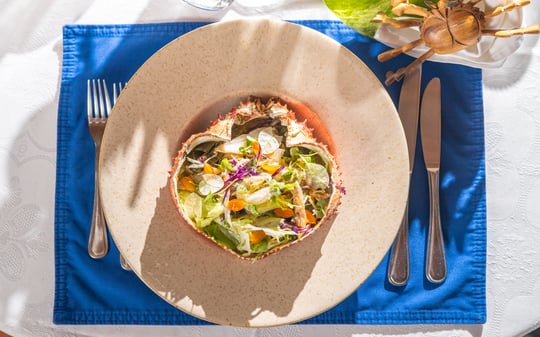 "King crab in Jamaica is one of the best I've ever tasted. It has a natural sweetness that makes the meat so delicious to eat." It inspired the Caribbean King Crab Salad as part of a special Valentine's Day menu at Charela Inn's award-winning restaurant, Le Vendome. Diced chocho (aka chayote or christophine), veggies, pickled star fruit (aka jimbilin), and a fiery-sweet scotch bonnet sauce accompanies the fresh bites of crab meat.
Often touted as a spicy root, Chef Howard was pleasantly surprised at the wide varieties of ginger available. Ginger was used to enhance salads, sauces, and smoothies to create new flavour profiles ranging from mild to spicy.
A surprising twist on an old Jamaican favourite, the Vendome team and Chef Howard made callaloo oil. A rich and flavourful oil with powerful notes of callaloo that can be used on salads, appetizers, and entrées.
Long live the king! Proving its versatility and richly sweet flavour, the much loved Caribbean King Crab was brought out to create a bold pasta dish.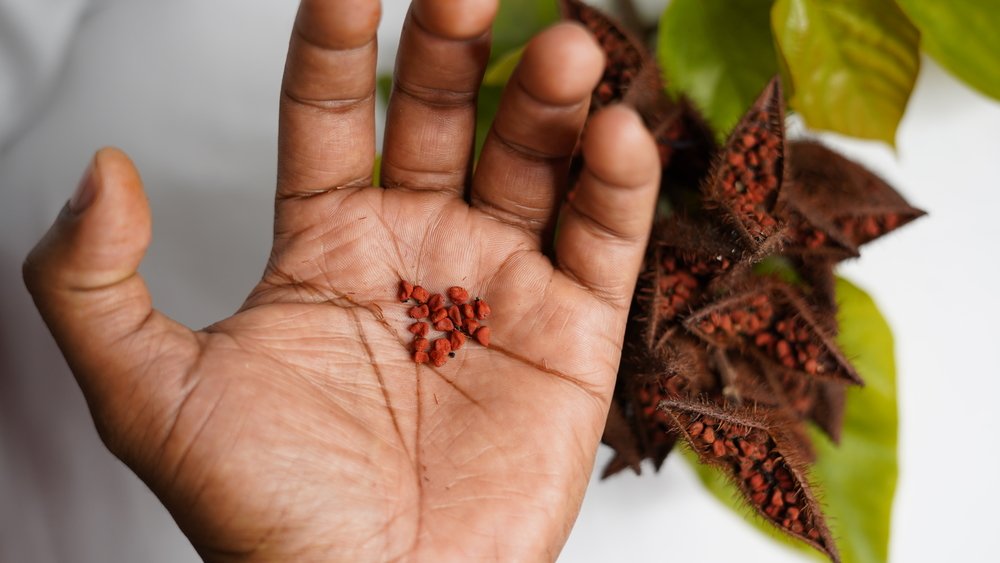 The annatto seed, a bright red spice with a distinct flavour, can be described as the 'saffron of Jamaica'. Probably a grandmother's favourite in the Jamaican household, Chef Howard was keen to discover this new spice during his residency.
Charela Inn's Fresh Approach to Food
We asked what was unique about a chef-in-residency at Charela Inn?
"Definitely the fact that [Charela Inn] ensures that the best methods and best ingredients are used." - Chef Jason Howard.
Owners who really appreciate good food, and are committed to using locally-sourced ingredients were some of the reasons Chef Howard said Yes! to the residency. Le Vendome Restaurant at Charela Inn uses only the freshest and finest quality goods, with no additives or artificial colouring. Almost all foods are made in-house; from our pasta, bread, and ground provisions, to our pastries, ice creams, and salads.
The blend of authentic French and Jamaican cuisine, to represent the owners, brewed a perfect environment for Chef Howard to wield his culinary skills. A perfect environment to elevate Caribbean food profiles.
What would you say to someone who wants to dine at Le Vendome at Charela Inn?
"That's easy! I would tell them that if they want to eat some of the best ingredients, they can experience something very special and different at Charela Inn" - Chef Jason Howard
Dine at Le Vendome Restaurant at Charela Inn
Focused on a farm-to-table gourmet food experience, Le Vendome Restaurant at Charela Inn in Negril is an award-winning restaurant. A healthy array of breakfast, lunch, and dinner options are available every day. We prepare a daily house special "five-course gourmet menu", using fresh Jamaican products prepared with a French flair and a dash of Jamaican spice. You may also order separately from the menu - "à la carte".
Although Le Vendome is the in-house restaurant, you can eat at the restaurant without booking a room. Day visitors and reservations are welcomed. Come dine with us and try our delicious gourmet menu at Le Vendome. Bon appetit!