Five Must-Have Dishes at Le Vendôme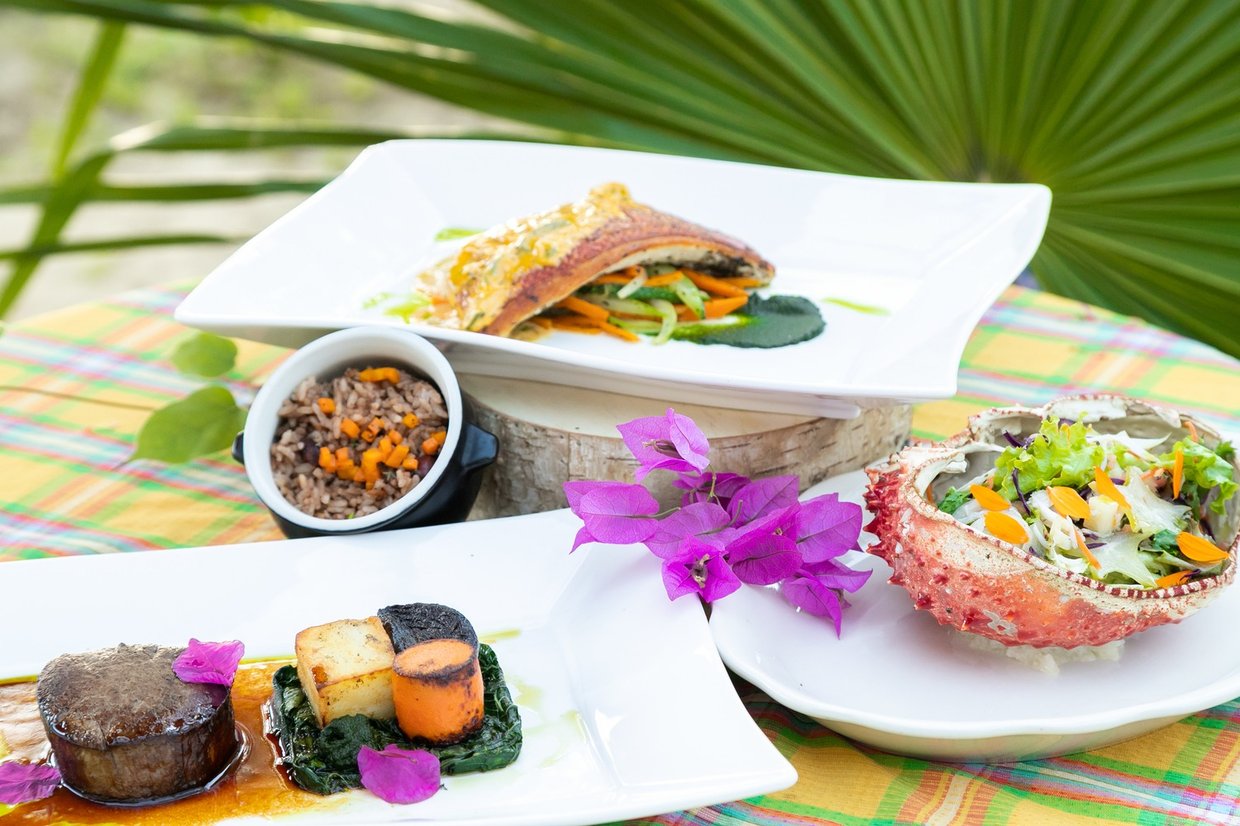 Le Vendôme at Charela Inn is a gem of a restaurant and one of the best in Negril. In addition to being blanketed in a beachfront breeze, the restaurant's delicious French-inspired fare makes it popular amongst tourists (from other properties) and locals celebrating special occasions. Our croissants have been a must-have for years, so there is no need to place them on the list. We were hard-pressed to pick our favorites, but conferring with our staff and repeat guests, here are five of Le Vendôme's must-have dishes.
Escargots de Bourgogne
Your immediate reaction will be to exclaim how buttery and tender these snails are. Yes, snails. Many folks are initially reluctant to try escargots. However, they'll give them a go once they realize that they are firm and meaty, not soft and slimy, and more shrimp-like in texture. After one bite, guests will call a server over and thank them for the recommendation. Our escargots are perfectly cooked and redolent with garlic, parsley, and shallots. They are intensely flavorful, and you'll eagerly use a piece of our house-baked baguette to sop up any remaining sauce. Don't think of this as breaking etiquette. Italians call this action Scarpetta.
Cheese Soufflé
Cheese soufflés comprise simple ingredients but are arguably one of the most intricate French dishes to master. Our chefs are experts at executing this dish, making it a beloved appetizer at Le Vendôme. Our savory clouds of cheesiness have well-balanced flavors, are perfectly brown on top, and are served piping hot. Though rich, our cheese soufflés are light, airy, and magical.
Chicken and Mushroom Crêpe
Though dating back to 13th century Brittany, crêpes didn't enjoy North American acclaim until the 1960s. They are very thin and pancake-like, with chewy centers and crispy edges. Le Vendôme's chicken and mushroom crêpes are savory delights that make guests swoon with each forkful. The unctuous, creamy chicken and mushroom filling is delicately tucked in between the folds of an expertly-made crêpe. They are sinfully delicious!
Canard â L'orange
When Julia Child first showed American housewives how to make duck â l'orange (canard is French for duck), folks wondered if a dish that takes hours to make was worth the effort. Not only is it worth the effort, but you can save time and effort and leave the cooking to us. Our canard â l'orange is superb! The duck has crisp skin, succulent meat, and a velvety orange sauce that create a beautiful symphony. This dish, once a mainstay of Tuscany's Medici Court, quickly became a staple amongst the French aristocracy. And we can see why. Each bite is the intensely fruity equivalent of edible sunshine.
Filet Mignon in Wine and Mushroom Sauce
A wine and mushroom sauce is classically referred to as sauce chasseur or "hunter's sauce." Using a demi-glace (a rich sauce made from beef or veal reduction) as the base, adding mushrooms and herbs transform the sauce into something heavenly. Our filet mignon is cut from the best quality beef, and you don't need a steak knife to cut through it. When it arrives at the table, you won't even feel the need to snap a photo. You'll be overcome with the desire to immediately eat. Moreish, tender, and delicious our Filet Mignon will have you realize that this is what this dish is supposed to taste like.